What's in our Morning Basket?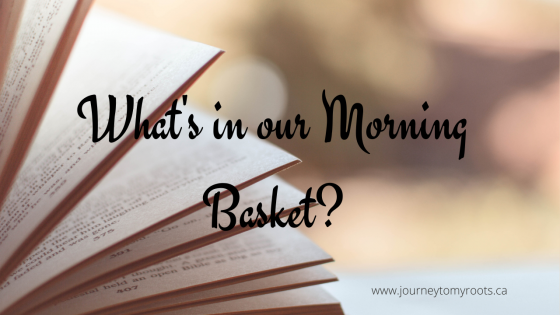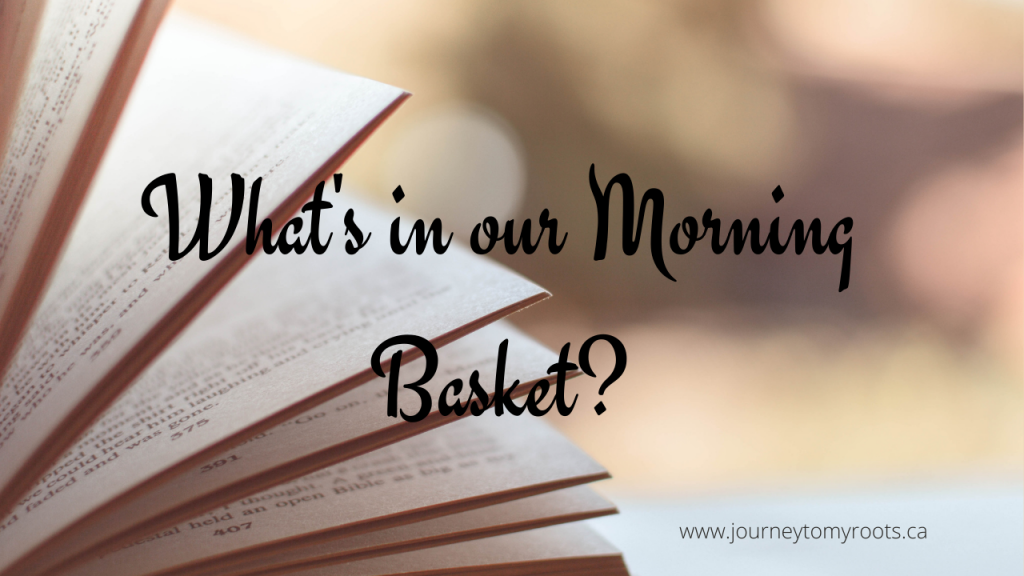 We start our homeschooling with the Morning Basket. It sets the tone of the day as we start with reminding each other of positive feelings such as gratitude and thankfulness to our Creator for all the blessings.
Morning basket has been one of those things that have evolved the most as B grew. Our main subject in the morning basket is Islamic studies. I divided the basket into 2 main components. One part which we do every day, and the second part has Islamic subtopics in a loop system.
Topics we do every day:
Calendar Work (5 minutes)
We had been doing calendar work in English, but I found this really amazing free Arabic and English Calendar from www.education-enriched.co.uk You can download it here
I found the Islamic calendar by one of the talented sisters on Instagram, named Sister Jameela. You can access the free Islamic Hijra Calendar here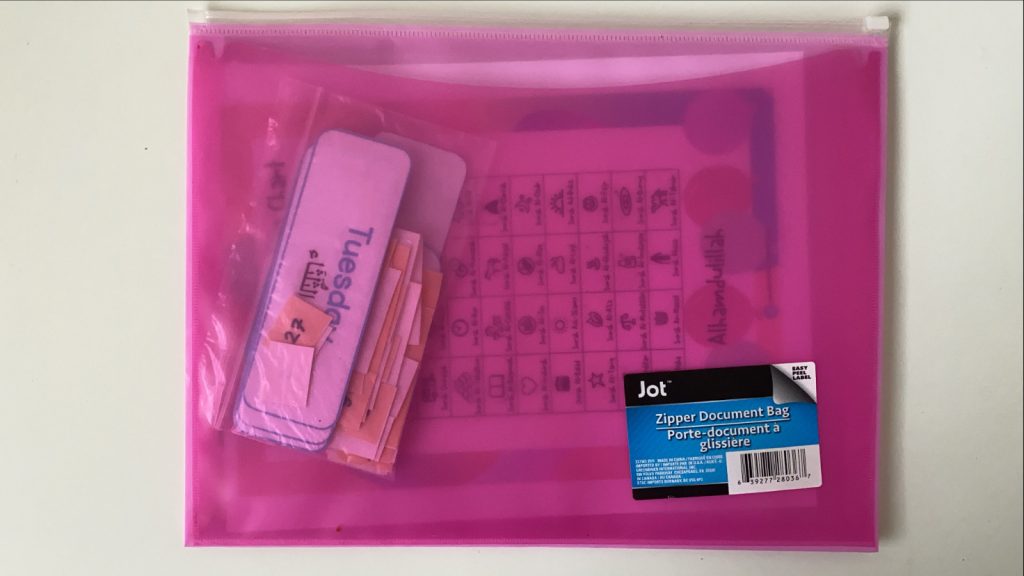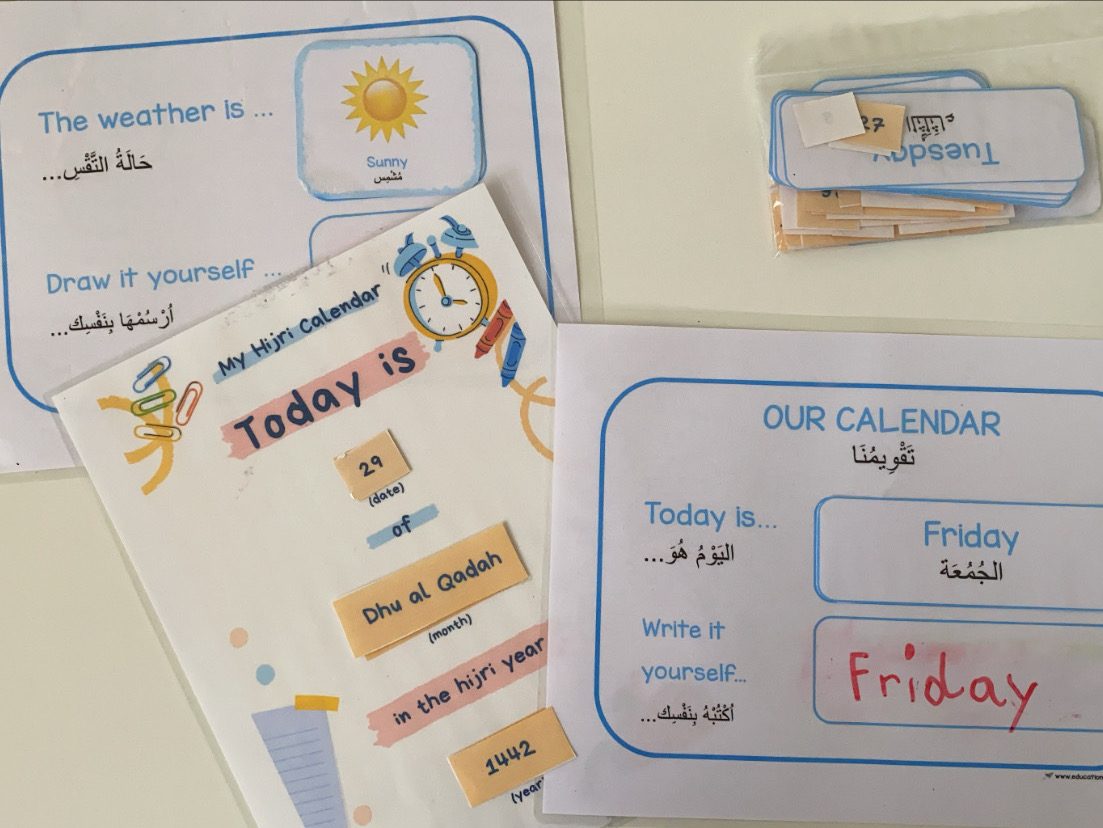 Duas (3-4 minutes)
We absolutely love these cards by Parenthood Muslim Style – What's unique about them is that they encourage children to approach dua as a conversation with Allah rather than a ritual. They also teach the basic components of Dua
1) Praise Him (and the Prophet SAWS)
2) Seek forgiveness for short comings
3) Ask what your heart desires.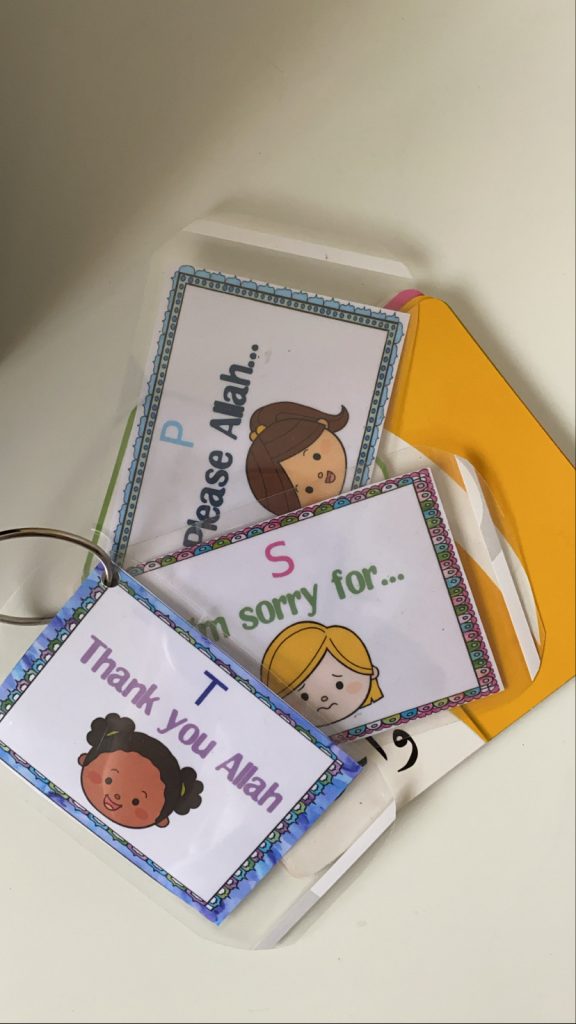 Calm down cards (2 minutes)
These cards are by Ilm Tree Academy and we absolutely love them. We read them every day and when a "not so calm" situation arises, we remind ourselves about the advice given on these cards. Free download is available on their Facebook page. I have linked them here for convenience.
Arabic numbers (1 minute)
I got the flashcards from a stationary shop on my visit to Sharjah, however, there is a free printable available at one of my favorite websites: http://www.qamardesigns.se. She has some beautiful posters, Eid banners, and educational resources free of charge. I have linked the numbers flashcards here. You can print and laminate them for durability.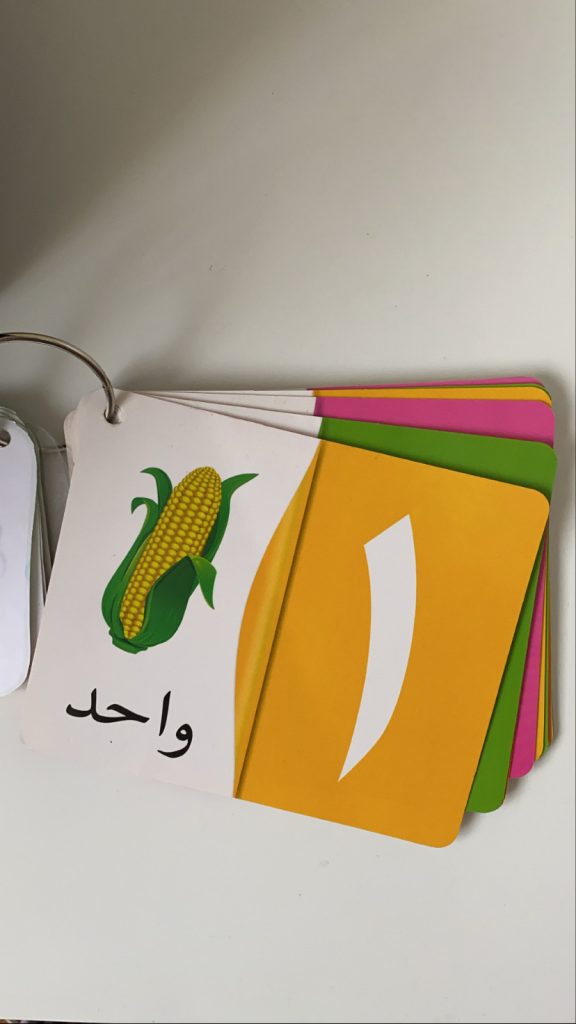 Islamic studies textbook for Grade 1 (5 minutes)
I love this book by Darussalam mainly because of how age-appropriate it is. It explains the concept of Tawheed in a very clear and concise way. The chapters are short and easy to read for a first-grader. It is a very comprehensive book and covers topics such as Tawheed, pillars of Islam, pillars of faith, early Seerah of Prophet SAWS, Akhlaq, ahadith, short duas, and short Surahs. Each chapter ends with an activity/comprehension page, where the child is prompted to fill in the blanks, state whether true or false or colour.
My approach was to read the same chapter all week. Although the chapters were easy enough for B to read, she liked it when I read them to her with expression. We also had lots of discussion on the chapter. By the end of the week, B was completing my sentences as a result of repetition.
I could not find the same book on their website as it's probably an older version, however, you can check out this new revised version of Grade 1 Islamic Studies textbook.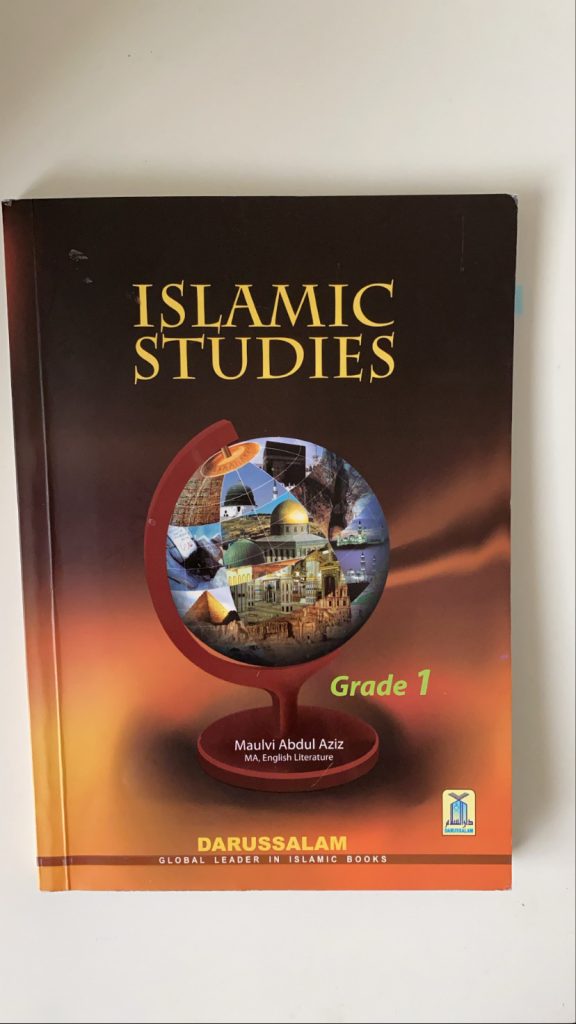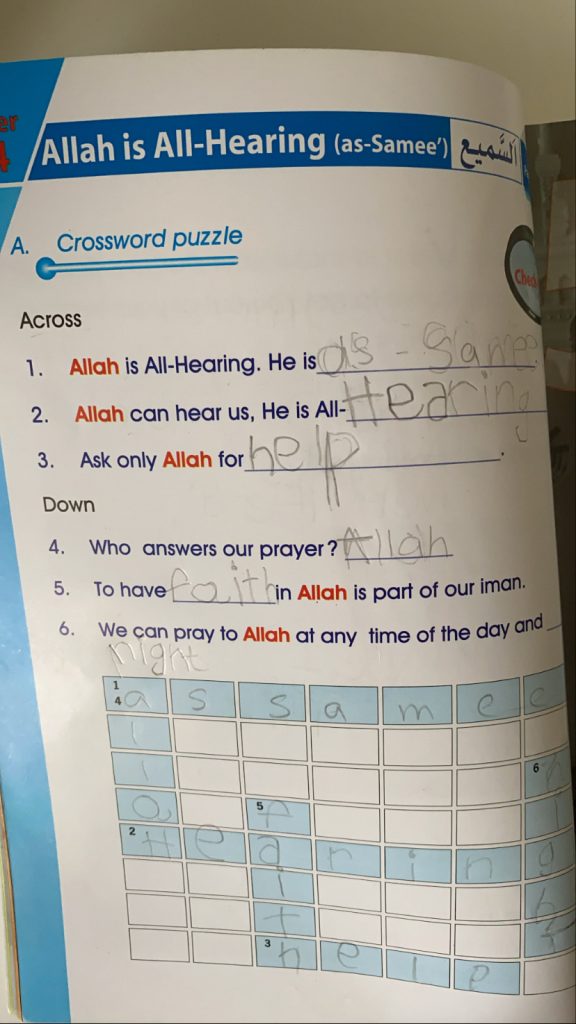 Poetry (2 minutes)
We used the book 52 Poems for 52 weeks – an Islamic poetry book based on the Lunar calendar. We follow the same pattern – same poem for the whole week, and if the poem is short enough, B has it memorized. However, I do not focus on memorization. The point is to expose her to language, new words, and sentence structure.
This book is very reasonably priced and I purchased my copy from amazon.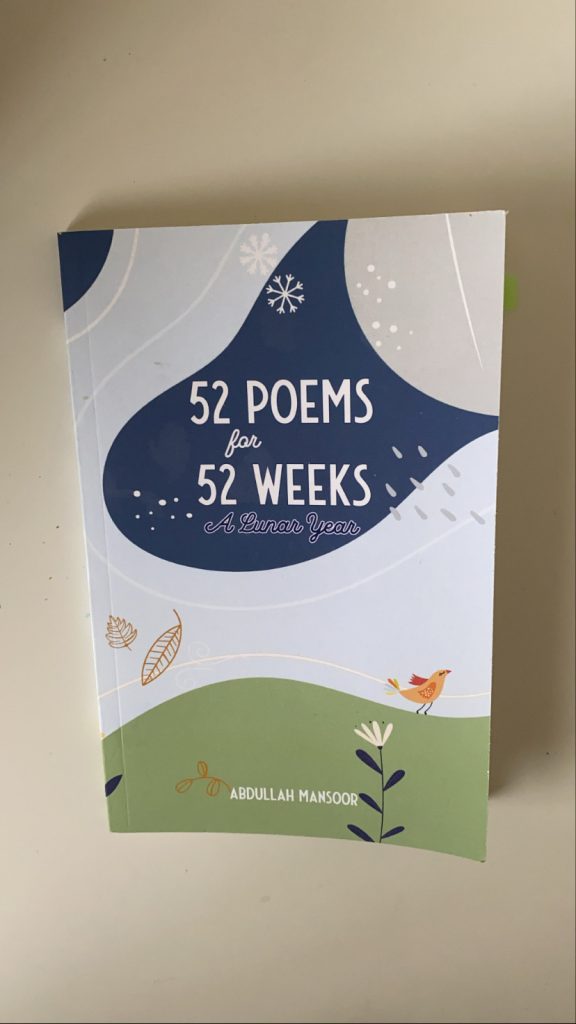 Memory work (3 minutes)
I feel like we do not have much connection to the Arabic ahadith of the Prophet SAWS. Sure, we know the summary of quite a few of them, and might even remember the translation of a few, but how many ahadith do we know in Arabic? These were the words of our dear Prophet SAWS, would it not be great to memorize, understand and implement them in our lives?
I got a pdf through my friend on a version that has parts of the 40 ahadith with translation (since some ahadith are very long)- short enough for children to easily memorize and understand the meaning of the entire hadith.
Since I am unsure about the source and copyright restrictions on the document, so I am unable to share it on my blog.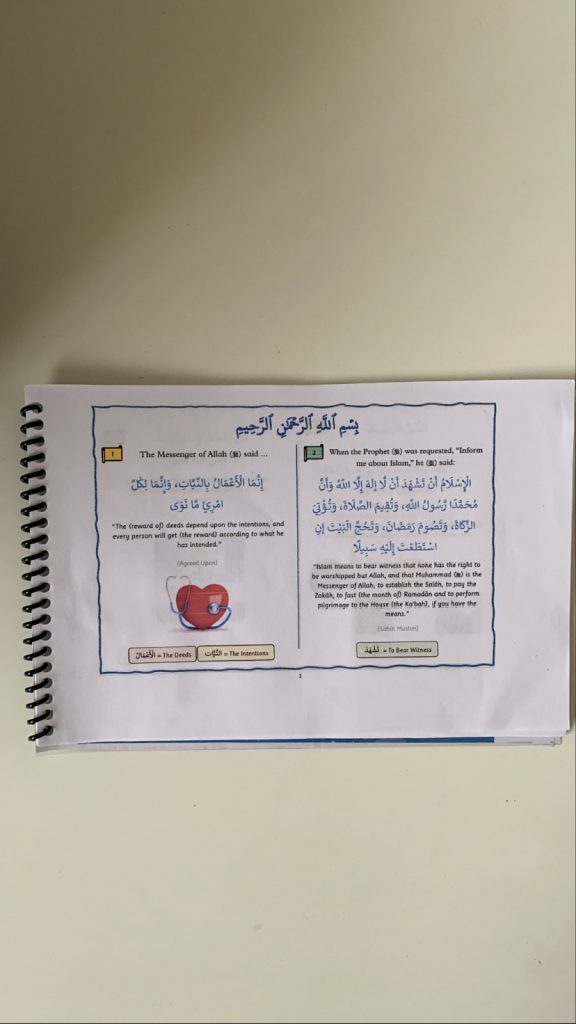 Total time ~15 minutes
Now comes the second part of the Morning basket. This includes our loop subject or a particular Islamic unit I am covering (like Ramadan or Hajj)
Monday – Names of Allah by Azharis (10 minutes)
We watch the episode on youtube and then fill out the workbook that goes with it. The physical workbook is available for purchase however the pdf of the book is available for free on their website. We also review the names of Allah through the cards from Allamah Education. They are available for free at her website I printed them and made them into a mini booklet format so it's compact and easy to access for my daughter.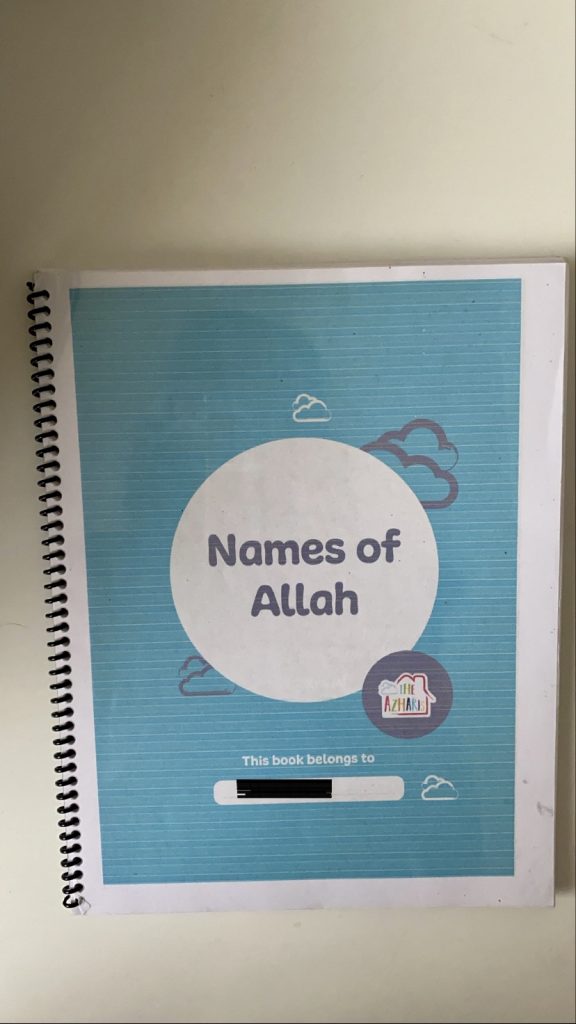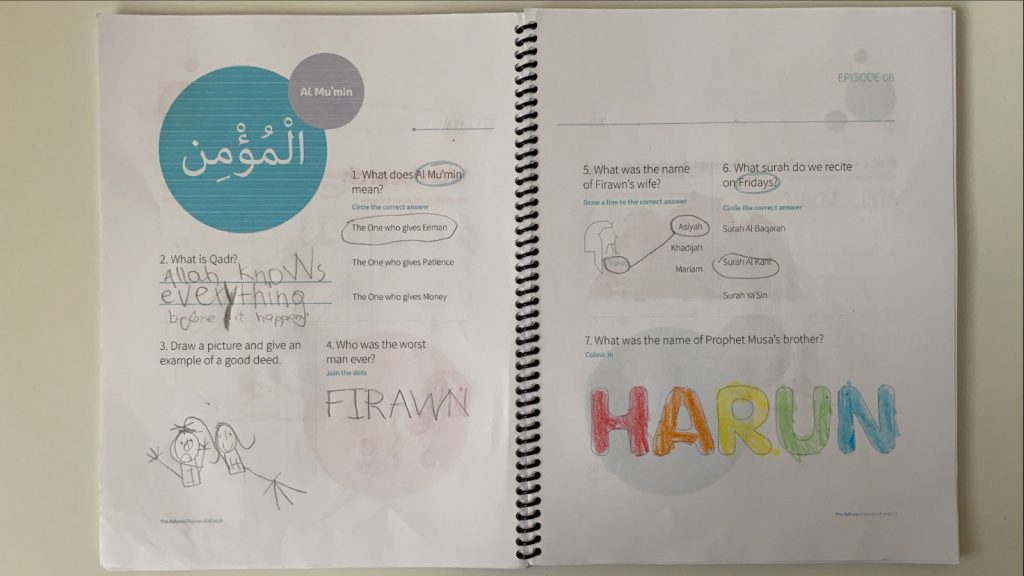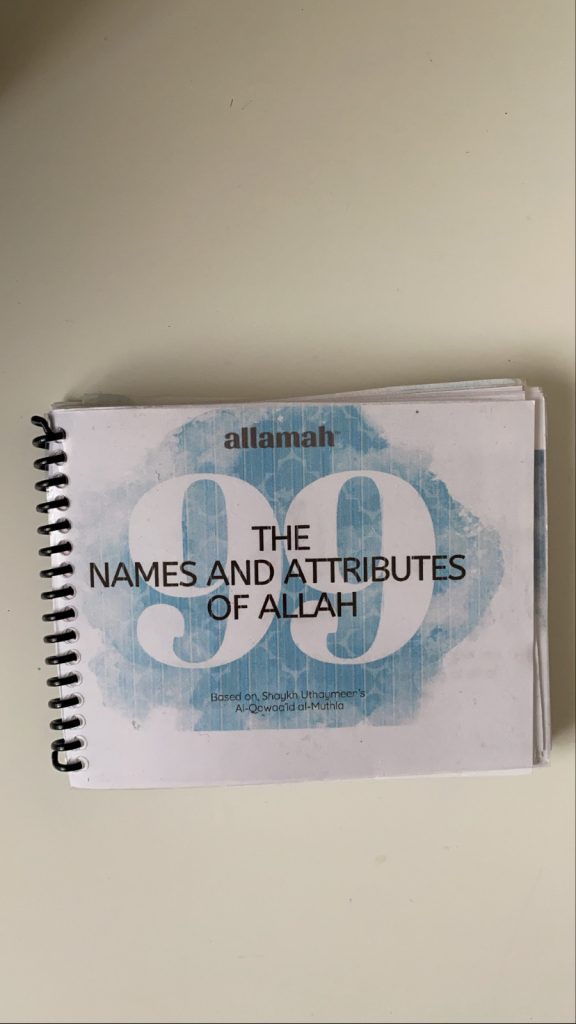 Tuesday – Akhlaq of the week (5 minutes)
We use the book A to Z of Akhlaq by Goodword Kidz. The morals are presented in the form of short skits and are easy to understand. You can purchase the book at Darussalam. If you are in Canada, you can click here to go to their website. The yellow book is a poetry book. Each alphabet has one short line of the akhlaq (which is also present in the blue book)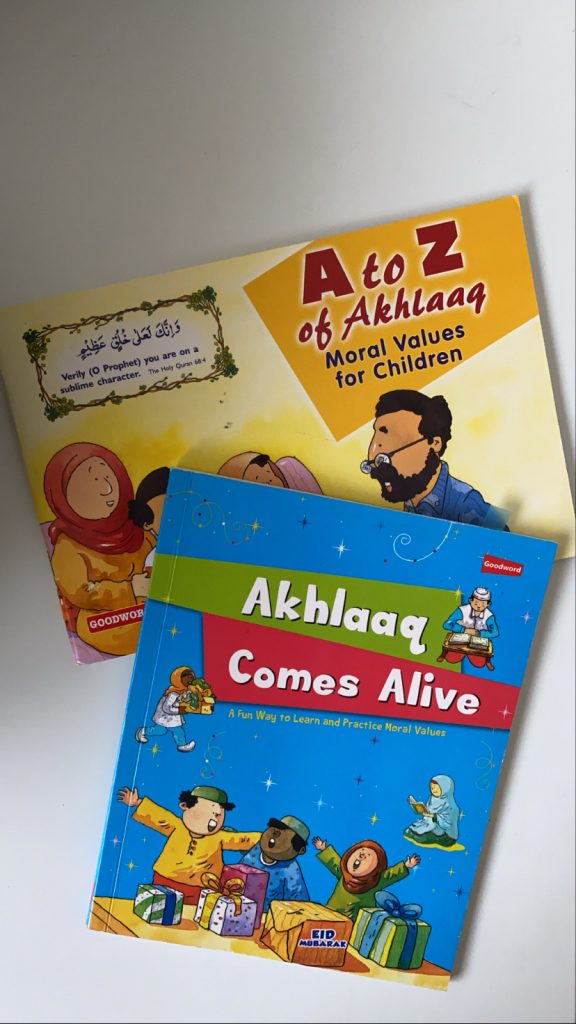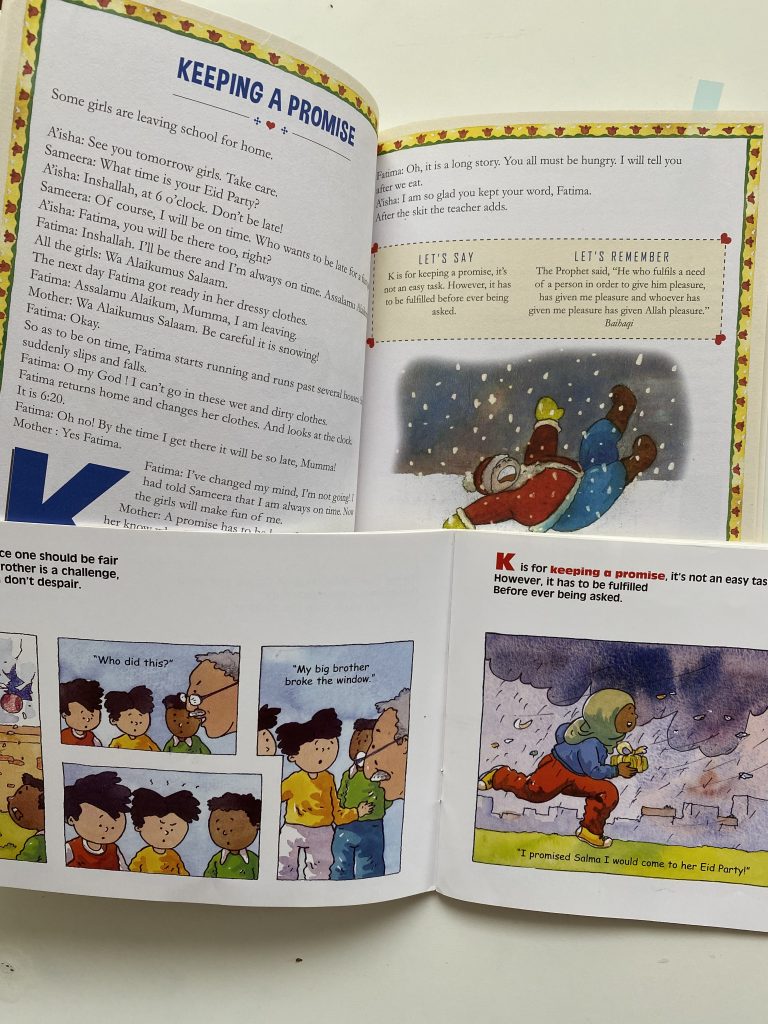 Wednesday – Tafseer of a small surah from Juz 30 (15 minutes)
We use 2 translations of the Quran.
The first is My first Quran with pictures Juz 30 – This book has the last half of jus 30. B loves illustrations on this and has formed a deeper connection with the small surah's that she has memorized. However, it does not contain any detailed explanations, rather an easy-to-understand translation and illustrations that do the explanation. I would recommend checking your local bookstore for this or waiting for it to come on sale at amazon.
Another wonderful book that has a child-appropriate Tafseer of the last 5 Ajza of the Quran and Surah Fatiha. This Quran contains the last 5 Juz of the Quran and Surah Al Fatiha.
Each translation of a Surah starts with learning points followed by an illustration. The Surahs are divided into headings based on themes. In addition to that, there is a background story to the surah to explain the historical context in which it was revealed, followed by side stories that help children understand the Surah. These stories are quite amusing to be honest.
Another really good part of this Quran is the Words of Wisdom section– It provides age-appropriate answers to some of the most difficult questions asked by children.
I have written a detailed review of the book with inside pages in a separate post. You can read it here.
You can purchase your copy from www.TheClearQuran.org or orderquran.ca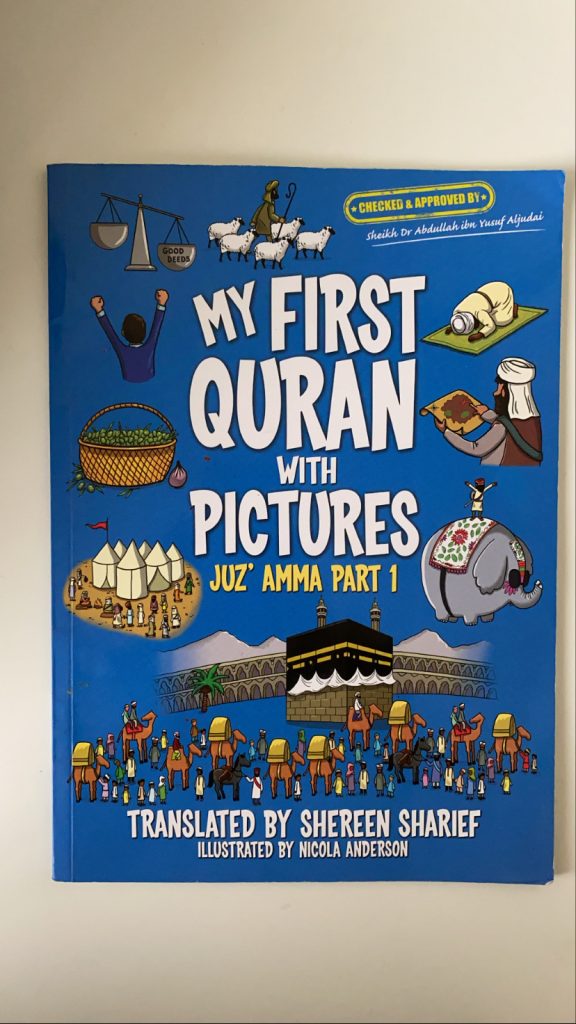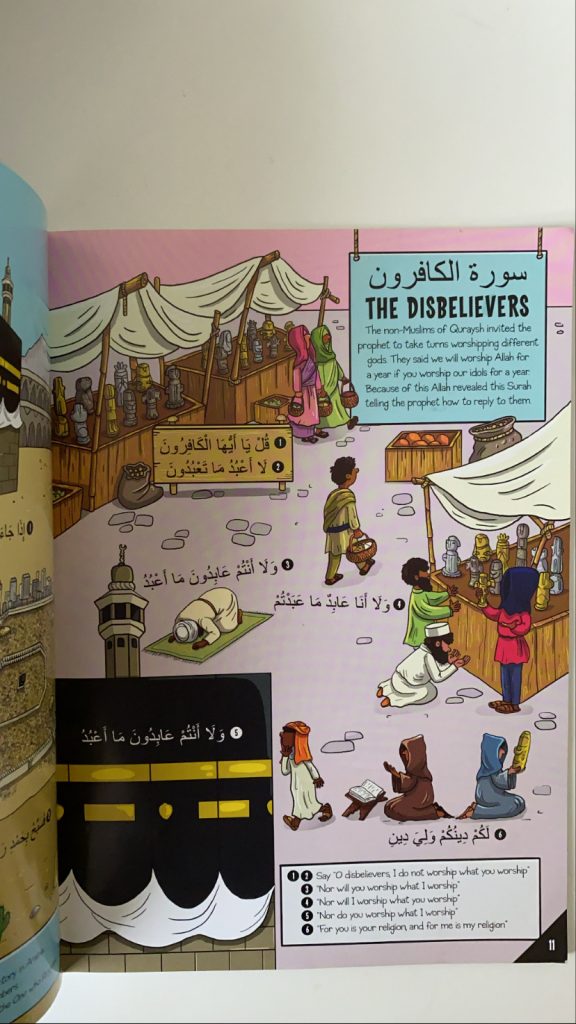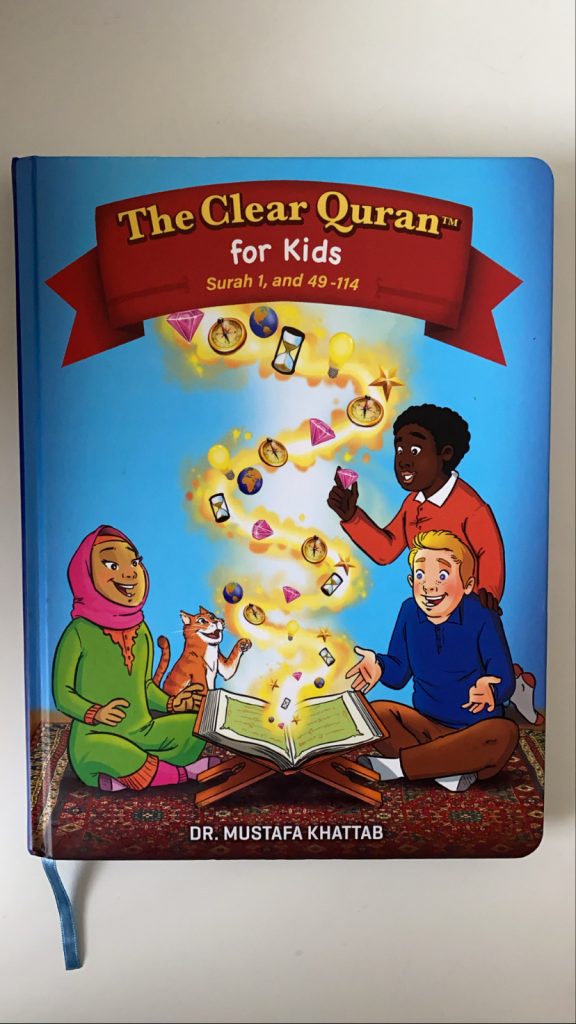 Thursday – Mindfulness Cards (10 minutes)
We really enjoy these mindfulness cards, and B looks forward to doing them each week. The cards prompt you to and help conduct the activity step by step. See the picture below for a sample.
They are ridiculously priced on amazon. I purchased mine over Etsy from a local stockist based in Canada. I would recommend to keep an eye out for sale on either Amazon or Etsy.
As you can see, it takes us around 30 minutes to complete our Morning basket. There are some days when I would like to focus more on a particular topic. For this I include a read-aloud that goes with it. This can take another 10 minutes.
Disclaimer: This post contains affiliate links. If you purchase from one of my links I earn a small commission at no additional cost to you. All opinions are completely my own. Thank you for supporting my blog!
Amazon affiliate disclosure
We are a participant in the Amazon Services LLC Associates Program, an affiliate advertising program designed to provide a means for us to earn fees by linking to Amazon.ca and affiliated sites.
---
---