Our Grade 2 Curriculum Choices
Assalam Alaikum and Hello,
I have been meaning to write this post for a while now. We had some travel plans in the month of June, and to be honest we have not yet completed our second grade completely (another month or so left inshaAllah). I like to write reviews of curriculums AFTER completing the school year, however completing over 3/4th of the way, I feel it would be fair to write my thoughts on the curriculums. This school year had a lot of unexpected travel and a lot of transitions. Transitioning to a new country, charter homeschool, starting a bit more structured hifdh (albeit slow) and mandatory outdoor time take up quite a bit of our time every day. Our Science and Social studies did not go as well as I thought, however, I am strictly speaking from an instructor's perspective. My daughter absolutely loved EVERYTHING we did in those two subjects, so I guess it was not a complete fail on my part 😀 Let's discuss each subject below:
Math
We love The Good and The Beautiful for this and with their new and improved "Simply Good and Beautiful Math" we like it even better. The previous edition had a lot of parts to it and a huge manipulative box. Every lesson required playing games and setting up games took up quite a bit of time. The new and improved edition has games within the lesson (no separate book) and they have very few manipulative and game pieces that do the same job.
I adore the new manipulative/game box for Math however the clock is of low quality and it broke when placed in a school bag. We used the small wooden clock from last year's math activity box. You can find a similar one here.
There is a lot more independent practice in the new math curriculum and they have some video materials to supplement the course as well. In the 90 lessons that we have done so far, there was only 1 video to watch. In terms of biblical material, so far we have encountered roughly 1-2 lessons that mention God. The rest of the stories in the curriculum are based on families and friends. The pdf of this curriculum is available for free on their website.
I did add supplemental practice, for which we used Kumon books. I purchased them from amazon. You can find addition, subtraction, and geometry practice (contains time practice as well) according to each grade level. B does them as part of her independent work.
Two concepts that B had a hard time grasping this year were
Telling time (I needed a clock that had the terms "quarter to", "Quarter after", "Half past" etc. for B to get a hang of.)
Place value (as we move to thousands).
So for these concepts, I got some hands-on materials from amazon. Although I could not find the exact dry erase clock that I have (as I am in the US and amazon here is different than the one in Canada) this tell-the-time interactive time chart looks amazing. This place value flip chart also helped us tremendously in our lessons.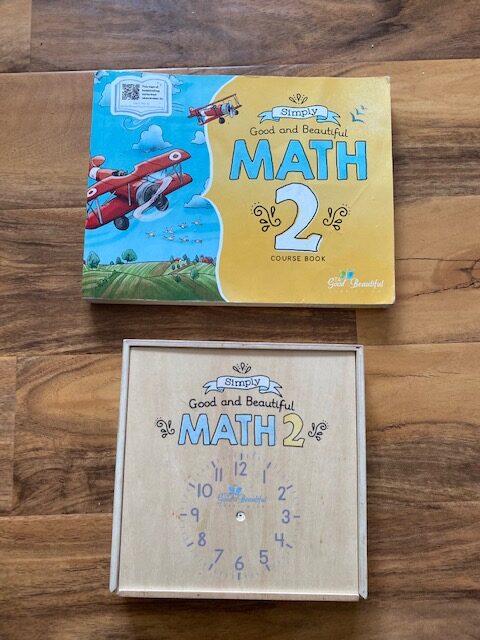 Language Arts
This year we continued with the next level of The Good and The Beautiful Language Arts which includes a shared reader and a personal reader. The shared reader is mostly non-fiction and nature-based, whereas the personal reader is fictional. Each lesson can take anywhere from 10-30minutes, some days being short, while others being long. It is a very wholesome and well-rounded curriculum that includes Spelling, grammar, writing, poetry, comprehension, etc. The pdf of this curriculum is available for free on their website. They have revamped their Language Arts this year (The picture below is of the old curriculum) and I am sure it must be even better than before.
Last month, I added "First Language Lessons" from The Well Trained Mind, as I felt that we need more practice in Grammar. First Language lessons are very short, oral lessons, that we usually do when B is playing. It takes about 10 minutes to do, it has some poetry memorization, and sometimes it also includes copywork.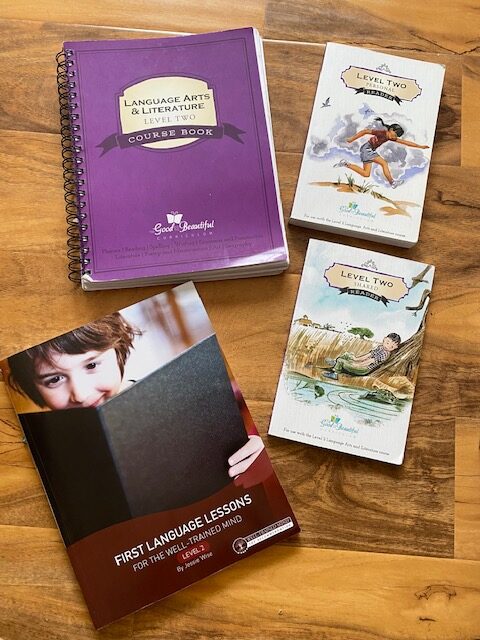 Science
This year, we only managed to do two units: the five senses and the human body. We used Allamah education as our main source of information, and I also added books such as the Magic school bus and Usborne books to complete the unit. I will do a separate blogpost on the human body unit and share all the resources I used. However since it was getting difficult for me to plan and execute unit studies like I used to, I resorted to an open-go curriculum named Bookshark. This curriculum is literature based, and the approach is very different from Charolette Mason's style (which I have been doing since we started homeschooling). Science so far was nature-based, but now as B is growing older and showing more interest in other aspects of science, I am open to changing my teaching style to meet her learning needs.
We continued the human body unit using the Bookshark curriculum, and B absolutely loved the literature-based approach. It is very simplified, and the whole year is planned out for the teacher, day by day. Each day the child and teacher read 2-3 pages from the Usborne encyclopedia on a particular topic, followed by a few pages from one of the books that are included in the package (mostly magic school bus books or usborne), and make them do a couple of questions from the worksheets provided (answer keys are also provided) See pictures of the curriculum below.
The curriculum has science experiments as well that the parent and child can do once a week. There is a separate experiment book that walks a child through the experiment by first explaining the concept of what they are doing, and how to go about conducting it. In the end, the child is encouraged to write a report on their findings. We did one experiment so far and B really enjoyed the entire process. The whole process can take around an hour to do, so on this day we did not do other core subjects (in our case it is mostly Fridays) There is a supplies list mentioned at the beginning of the book, making it easier for the parent to plan ahead. You can choose to include the encyclopedia or omit it from the package if you already have it. I got a better deal from amazon when I looked for second-hand options, so I chose to omit it from the package.
Social Studies
This was our first year to start a proper curriculum for social studies. I did not want to start world history just yet, as I felt B did not grasp the concept of time very well, and would not be able to understand the idea of ancient civilizations. I wanted to take a much gentler approach, gearing toward geography and culture more than history itself. After watching many youtube videos and reading blog reviews, I resorted to purchasing the Beautiful Feet curriculum. It is a Charlotte Mason-style approach to learning social studies via picture books. The curriculum was called Around The World In Picture Books. I was intrigued by the idea and loved that the curriculum was based on picture books, so I thought of giving it a go. I also purchased the Teacher's guide to help me make the most of how to execute the subject. To say that I was shocked and disappointed in the teacher's guide is an understatement. There is a lot of underlying racism in the teacher's guide, and it is as if they are pushing the idea of "West is Best" and "White Supremacy" through the curriculum.
There were some erroneous assumptions made about the Eastern culture and unfairly compared to the West. In the unit covering Japan, the teacher's guide mentioned that the teachers in the Eastern culture demand respect and the students cannot open up to them. This is completely false. Being respectful does not mean you cannot be comfortable with the teacher and open up to them. I was raised in the "East" and had some of the best teachers, who were like my friends. Yes, respect plays a very important part in the Eastern culture (which sadly the West has deprived themselves of) but that did not mean we could not laugh with our teachers and have a good time with them.
Additionally, I noticed that they have carefully chosen books that talk about the era of war in a particular country, and how people of a war-stricken country are living their good life after moving to America. The war does not define a country's beauty and culture. Why would you choose to show that side of the country to a six-year-old child and paint a negative picture of that country? This is not a wholesome and fair approach.
I stopped using the curriculum halfway because, in every lesson, I noticed the ideology of "West is Best" being pushed further and further. 6-7-year-olds are taught that third-world countries aren't the best place to live and how people from there move to the West for a better lifestyle. While this may be true for some people, a lot of them do live in third-world countries out of choice and are extremely happy. Their lifestyle is much better than some of those living in the West. They are rooted in their homeland and love the culture, family bonds, and sense of belonging and community that their country provides. However, the curriculum is void of all this. Is this a wholesome worldview that you would like to give a 6-7-year-old? How do you expect them to respect the differences, beauty, and richness of other cultures when the focus is on how "backward" they are? Let's hope I am able to find a better curriculum for next year!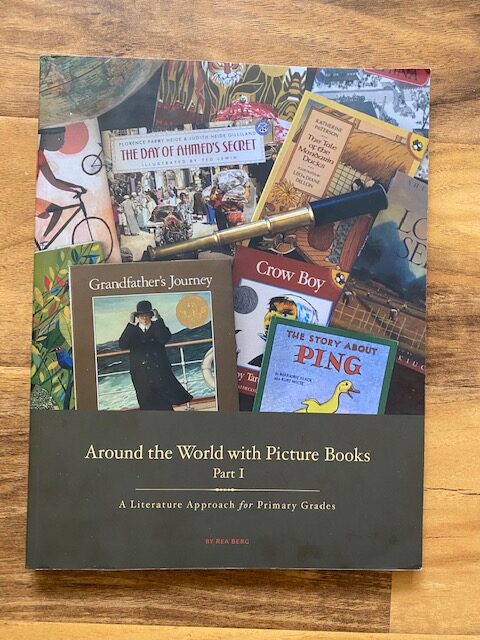 Islamic Studies
Although much of our Islamic studies are covered in the Morning Basket, we tried to follow a textbook this year. I had heard a lot of good things about the good words kids book "I Love Islam" and thought of giving it a try. To be honest I did not find anything great about the curriculum apart from it being very colorful. The lessons and activities are all over the place, and there are some grave errors in the book as well. The book calls the creation of Allah His "Family". Theologically speaking, Allah is Al-Wahid, The One. He has no family and is not in need of any. Furthermore, there are no references to the stories mentioned in the book. I will not be using the next levels of this book. I am intending to start Islamic history, for which I have purchased the History and Geography bundle of Allamaeducation. You can find it here. The plan is to go through history in chronological order, which means I will be starting from the beginning of Creation. I also purchased The book of Centuries by Dr. Gemma Elizabeth. It is a blank timeline book that includes the gregorian and Hijri dates. It has cutouts of only a few individuals like the 4 caliphs, Prophet SAWS, a few Muslim scientists, and that's about it. I was expecting at least the 25 Prophets to be there as well.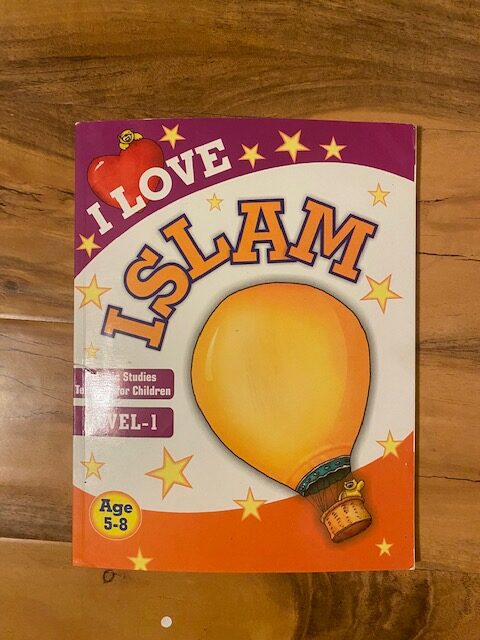 Handwriting/ Independent work
For penmanship, we continued with Level 2 Handwriting and Copywork and Dictation for the Muslim Child like last year. We have now moved on to Level 3 of the Good and the Beautiful in which they have introduced cursive writing.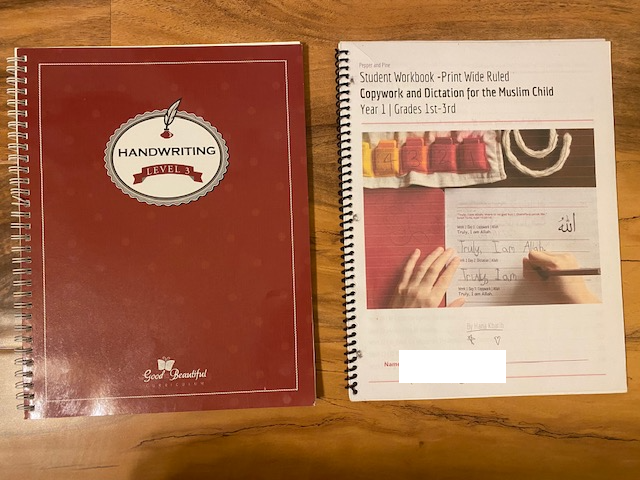 I hope you were able to benefit from my reviews on the curriculums we chose. Which curriculums are you using in your homeschool? I would love to know in the comments 🙂
Until next time,
Peace
Disclaimer: This post contains affiliate links. If you purchase from one of my links I earn a small commission at no additional cost to you. All opinions are completely my own. Thank you for supporting my blog!
Amazon affiliate disclosure
We are a participant in the Amazon Services LLC Associates Program, an affiliate advertising program designed to provide a means for us to earn fees by linking to Amazon.ca and affiliated sites.
---
---