Our Grade 1 Curriculum Choices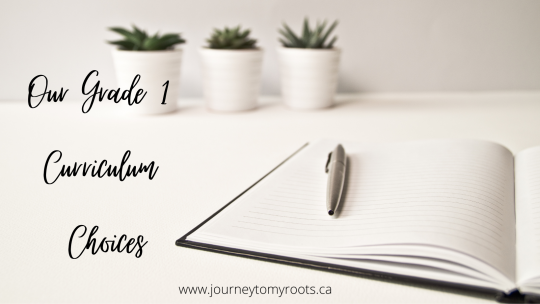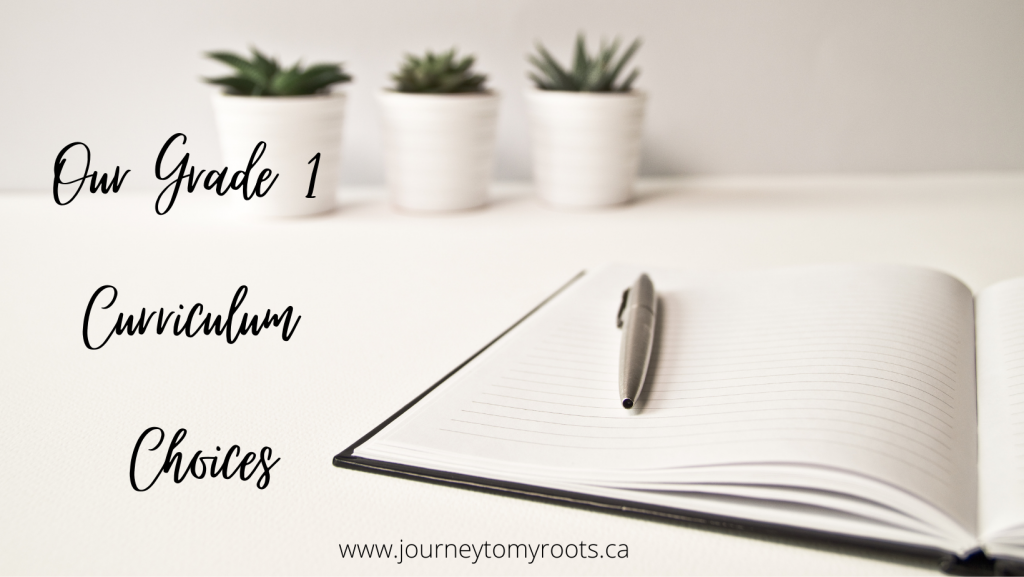 In this blog post, I discuss the curriculum choices for Grade 1. I am writing it after completing the year to document what worked for us and what did not. Although I planned to do Geography this year, it was not possible due to the move.
Math
We stayed with The Good and The Beautiful again this year (Level 1) as it has been working wonderfully for us Alhamdulilah. Math concepts were taught in a fun, game-based interactive way, with loads of manipulatives to make it practical and hands-on for the children. The curriculum is comprehensive, gentle, and story-based.
Although it is a great curriculum, I did feel there was a lack of practice since addition and subtraction concepts are introduced, and so I added Kumon Addition and Subtraction workbooks for additional practice. I introduced these when B was done half of her first course book. The Kumon workbooks were independent work, and B was expected to complete a page every day.
I realized B was having difficulty grasping the idea of Place value so I purchased the Place value robot by Kristen. You can purchase your copy from her shop here. I laminated it using the Scotch laminator for durability.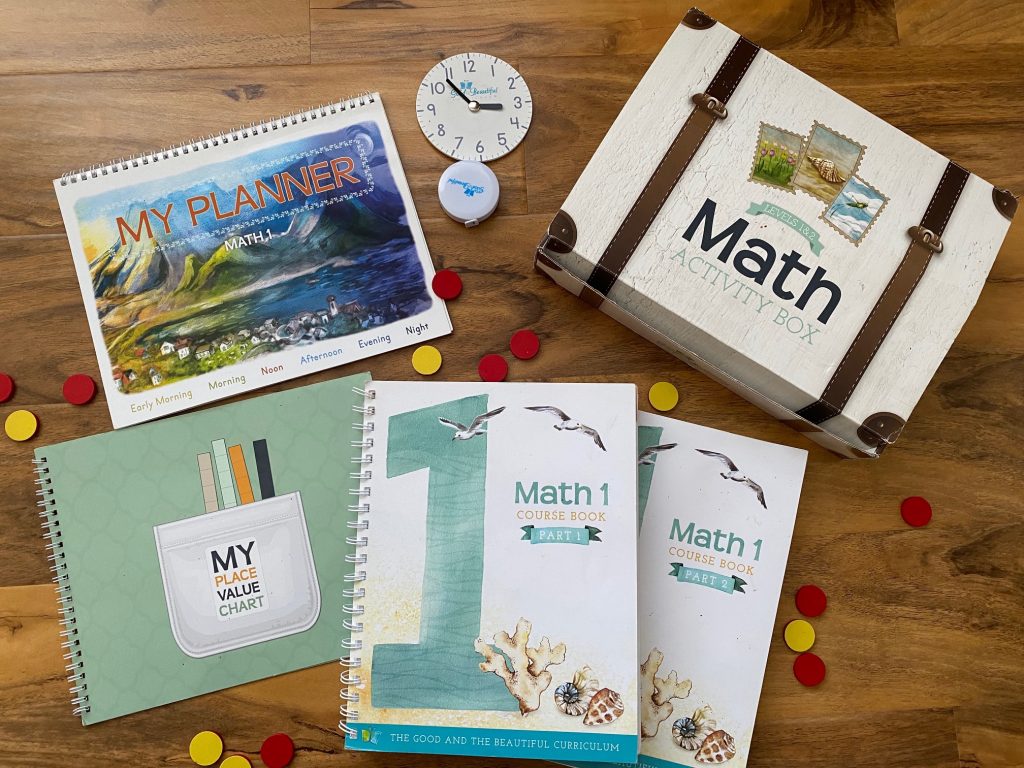 Although it was a wonderful open-and-go curriculum, I must admit it would take a good 10 minutes to set up the lessons. The activity box had way too many components, and it even though I had organized them into little baggies, setting them up was still a hassle. Nonetheless, it was all worth it in the end as B thoroughly enjoyed the lessons. The company has discontinued this version of the curriculum and has instead brought a new, simplified and improved curriculum. The pdf is available for free on their website. I am so excited to start the new simplified curriculum with her! She was very excited to see the activity box when it arrived in the mail and could not wait to start. 🙂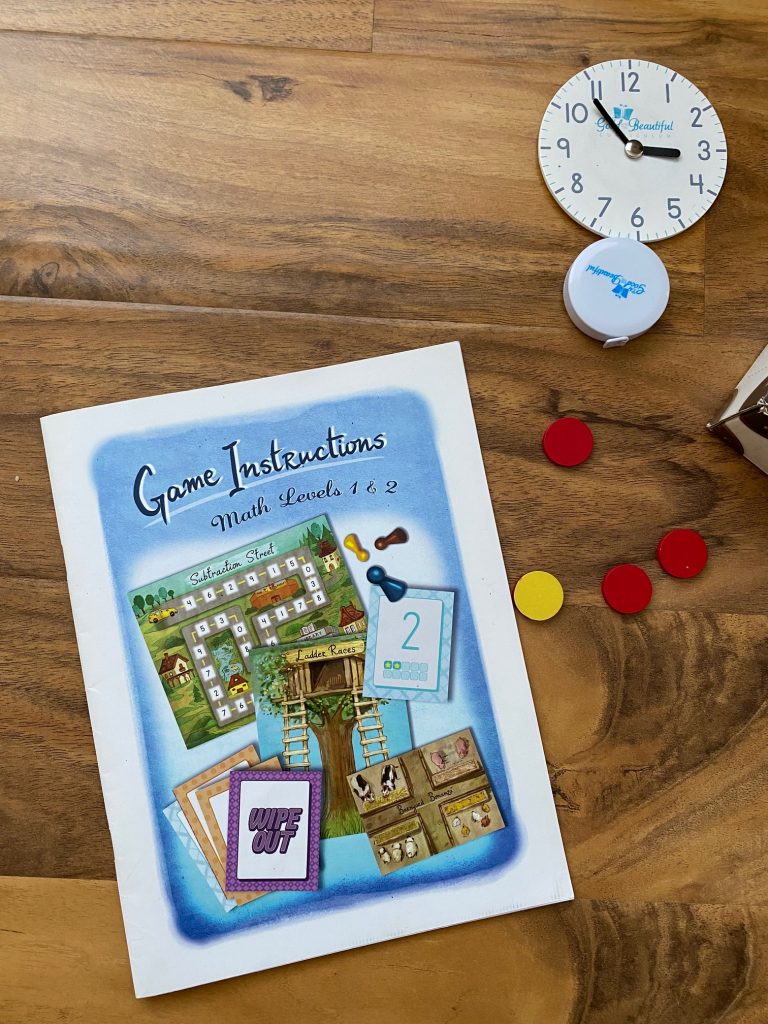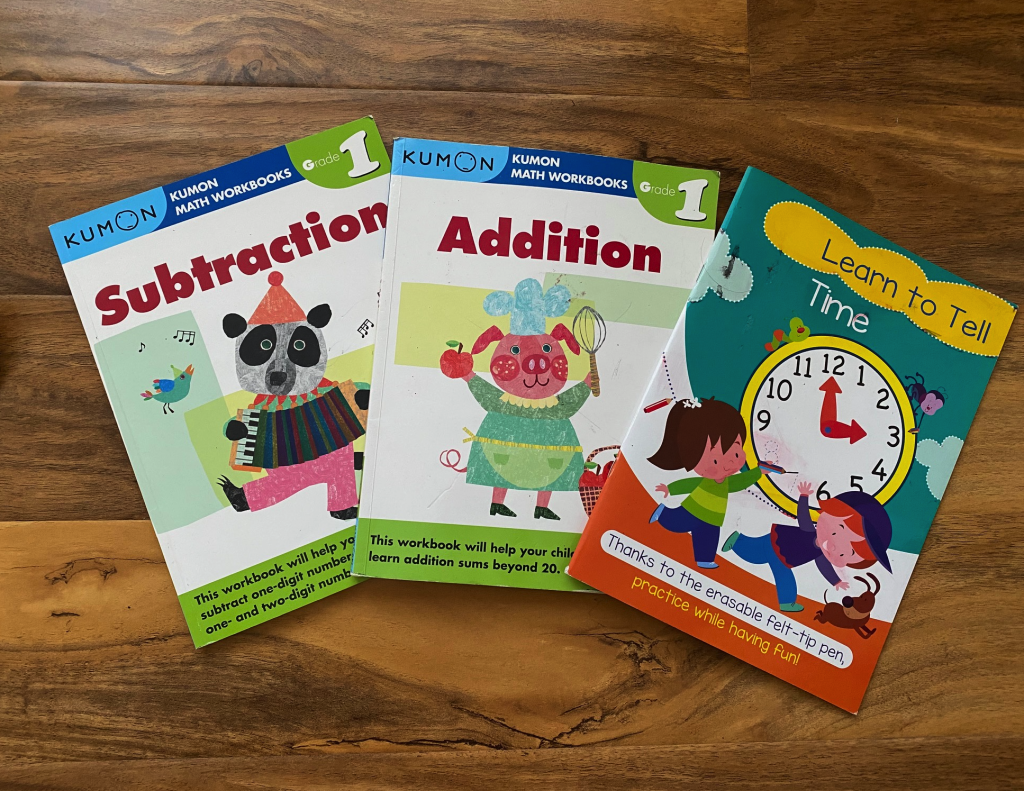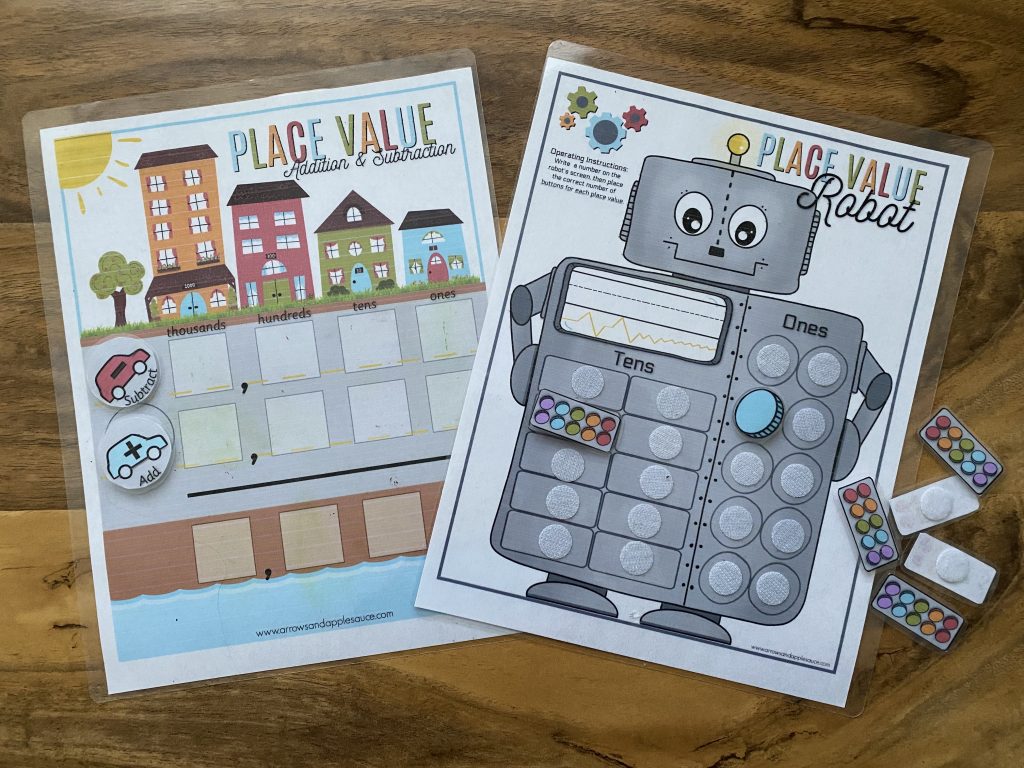 I purchased the Addition and Subtraction Kumon workbooks from Amazon, and the Learn to Tell Time was not a necessity as there is enough practice in the curriculum, I got this from the dollar store as B loves doing it. You can get a similar one from here
.
Language Arts
We moved on to Level 1 of Language Arts by The Good and The Beautiful. The lessons are short and nicely explained. We focused on the spelling list provided at the end of the course and I have seen drastic improvements this past year. B is more confident in writing small letters/making cards for her friends and family now. She also recently completed her first chapter book MashaAllah. She has been enjoying The Magic Tree House Series quite a bit.
The pdf of Level 1 by the good and the beautiful is available for free on their website. I am so glad we have an Epson Ecotank printer that comes with 2 years worth of ink. (totally worth the investment) The refill bottles are available on Amazon for a pretty reasonable price. I print books rather fearlessly and get them bound from a local printing shop.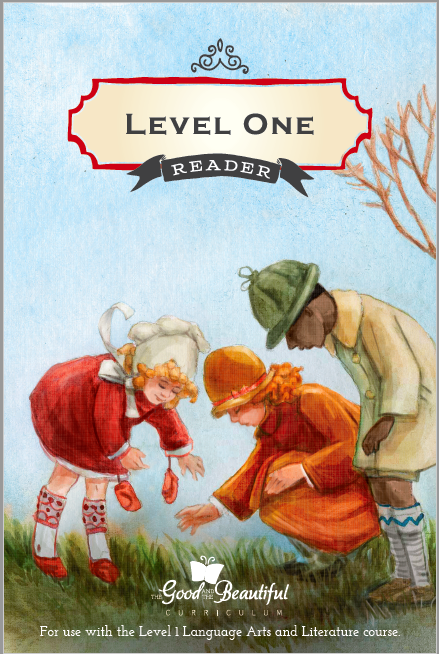 I am planning to do a detailed review of the Language Arts curriculum, where I will make a list of pages that refer to any aspect of Christianity. There are very few Christian-specific references throughout the curriculum. Most of the places referred to God in general and praying.
Writing
We completed Level 1 Writing (Again purchased a pdf and printed using Epson) We would do 2 pages a day.
I also did copywork by Hanna on the 99 names of Allah. B enjoys doing it and has memorized the names of Allah with the translation mashaAllah. We did half of this book and plan to continue it in Grade 2 inshAllah.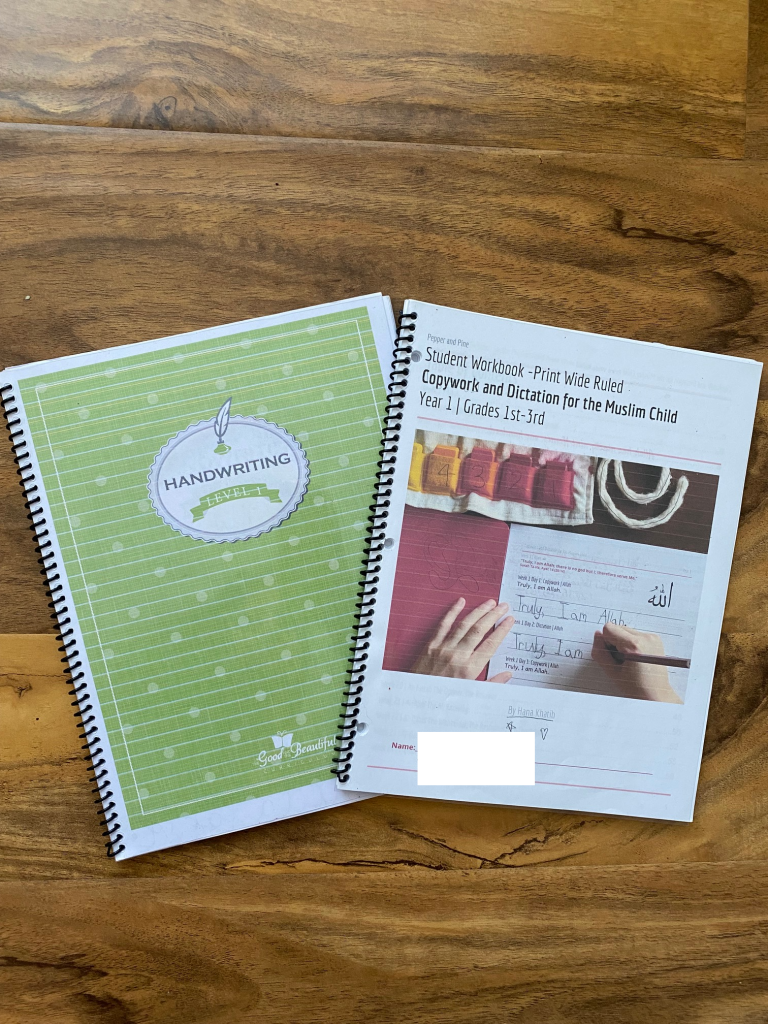 Science
I really struggled with this one. With not having an open-and-go curriculum, I had to find my resources and plan out the units myself. I started with McGraw Hill Ryerson textbooks. (The ebooks were offered for free on their website for a limited time) We did our reading from there and then I had to find printables from teachers pay teachers, used some ideas from Tinker Active level K science book, and worksheets from Complete Canadian curriculum, and Kumon Science. The McGraw Hill Ryerson textbook only worked for the first 3 months, after which we did not find the lessons to be very interesting. These were the topics we covered and the resources we used:
Topic
Resources
Plants
Reading: McGraw Hill Ryerson textbook
Hands-on activities: Teachers pay Teachers (check my instagram)
Workbooks: Complete Canadian Curriculum, Kumon Science Book
Experiments: Tinker Active Science Kindergarten
Animals
Reading: McGraw Hill Ryerson textbook
Did not like how the lesson was laid out so we did a lap book on animal classification by homeschoolshare.com
Weather
This is when we stopped using the textbook completely. My friend Javeria @Nurturingemaan came to the rescue and we did our science lessons together. She did all the planning and most of the resources were from teachers pay teachers and lesson plans were from the Magic School Bus series. You can check her instagram handle for craft ideas.
Solar System
The Good and the Beautiful offered the Space Unit for free for a limited time, we downloaded it and made the most of it. I also created some solar system printables. You can check them out here. For craft ideas, visit my instragram profile story highlights named "Solar System"
Bee Unit
Used book suggestions from @pepperandpine youtube channel where she does a walkthrough of all the resources she used in the unit, including flip throughs of the books. We borrowed all the books from the library.
Islamic studies
We used our Morning basket for Islamic studies. That way, it was done every day. I wrote a separate blog post for it, you can read it here.
That's about it for our first grade. I did not do any social studies in Grade 1. I am planning to add it for our second grade. I was also able to find an open-and-go curriculum for science. So excited to see how it works for us and review it here 🙂
Until next time,
Peace
Disclaimer: This post contains affiliate links. If you purchase from one of my links I earn a small commission at no additional cost to you. All opinions are completely my own. Thank you for supporting my blog!
Amazon affiliate disclosure
We are a participant in the Amazon Services LLC Associates Program, an affiliate advertising program designed to provide a means for us to earn fees by linking to Amazon.ca and affiliated sites.
---
---