The Good and Beautiful Language Arts Level K and 1 – review from a Muslim Homeschooler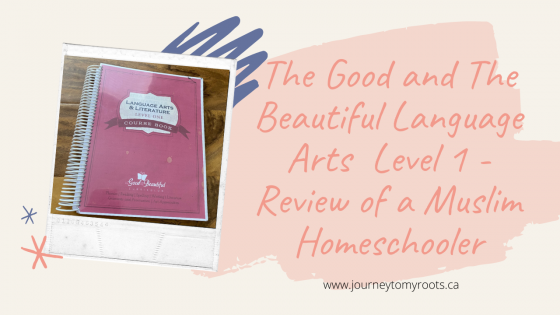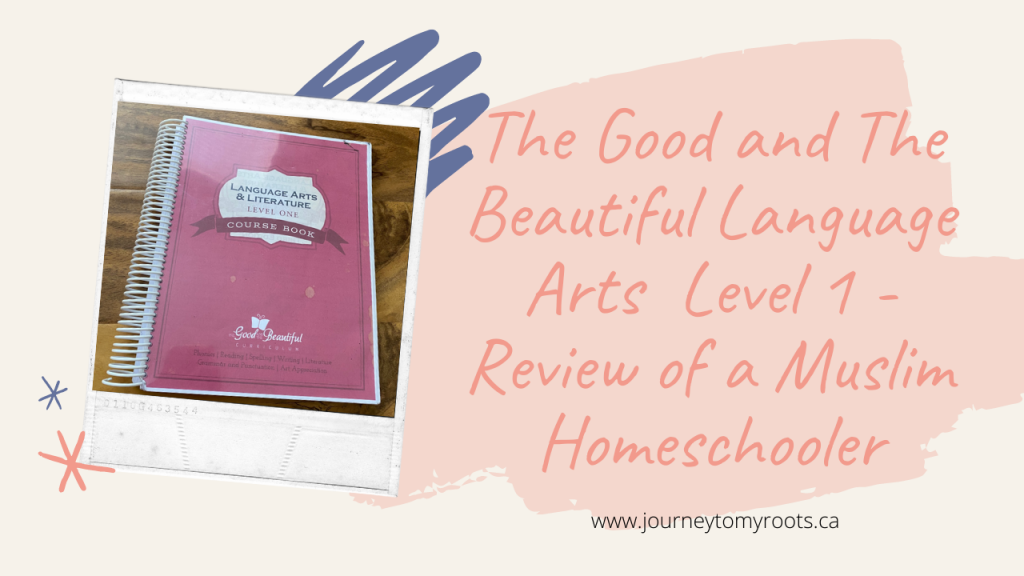 Assalam Alaikum,
We have been using The Good and The Beautiful curriculum since B was in Kindergarten, and we love it for a lot of reasons. It is a comprehensive, open-and-go curriculum so there is no preparation required on the parents' part. It is a very gentle curriculum and there are a lot of hands-on activities peppered throughout the course. B loves the hands-on component, and I love the fact that it is no-prep, gentle, with short lessons that are done in under 20 minutes. On top of everything, the pdf of the curriculum is free to download on their website.
With so many positives, why would a homeschooler not be willing to download it? A major factor why Muslim homeschoolers might hold back from using it is because of the fact that it is Christian-based. After using the same curriculum for Kindergarten and Level 1, I made a note on all the places where any biblical references are made. Let me assure you that such places are very few in the curriculum. However, there are general references to God, faith, being grateful, and praying in quite a few places, all that align with Islam. In this blog post, I will mention all the Lessons/page numbers that have Christian content, so you can decide to completely skip it or not print it at all.
There was a poem in the curriculum that was meant to be memorized, but I opted out of it since it promoted singing.
"I wake up in the morning early,
And always, the very first thing,
I poke out my head and I sit up in bed,
And I sing and I sing and I sing."
Sight words are a major part of the curriculum and the student is prompted to read them every alternate lesson. There was one word "Christ" that I put a black marker on. There is nothing wrong with the word per se, I just did not want unnecessary consistent exposure.
Below I will list down the lessons that had Christian-specific content:
Lesson 36: Page 112 takes about becoming like Jesus
Lesson 37: Page 114 The Prodigal Son – A story about Jesus on Parables
Lesson 53: Page 163 Independent Practice – A cut and paste activity that do and do not describe Christ.
Lesson 83: Page 243 contains a story on brothers and "Christ was in the centre of their hearts" You can decide to skip that line, or the entire story over all.
Lesson 93: Page 269 Asks if the Bible is fiction or non-fiction. I rephrased the question and asked B if Quran was a book of fiction or not.
Lessom 112: Page 320 Independent practice – homophones – the student has to fill in the blanks "Have you _____ about Jesus?" "Have you ______ the bible?"
Lesson 113 Page 323: Asking the plural of Church in exercise.
Kindergarten Language Arts
There was only one instance in the entire curriculum where a biblical verse was mentioned at the bottom of a story that discussed good voice and bad voice. The story was a general one, but there was a biblical verse at the bottom which we skipped.
There was also a book on loving dogs in one of the mini-books. Other than this, I did not find any Christian-based content in the curriculum. However, it is noteworthy to mention that the Level K curriculum is not a free download, but available at a very reasonable price.
I hope you find this blog post useful.
Peace.
---
---