Free Mini Unit on Islamic History of Masjid Al-Aqsa & Isra wal Miraj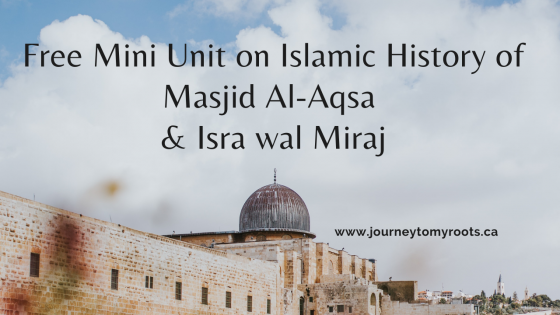 This mini unit was part of an instragram collaboration hosted by a dear friend of mine named Aminah. You can check her instragram here, and her website here, where 16 other amazing content creators have made 16 FREE units on P-a-l-e-s-t-i-n-e. In times when media is censored and biased, educating ourselves and our children is our biggest source of strength.
I focused on the Islamic historical significance of Masjid Al-Aqsa, and a detailed look into Isra Wal Miraj through Quranic references. The entire unit is quite hands-on and interactive. I hope you and your little ones enjoy learning about the third most important Masjid in Islam.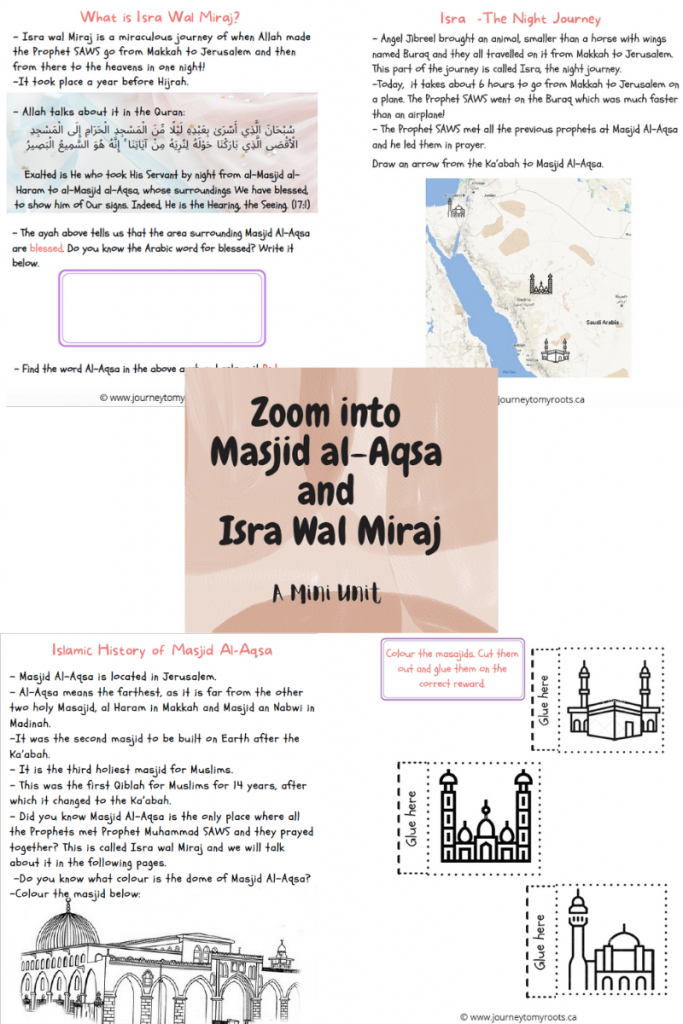 Sample of the mini unit.
Learning Outcomes
By the end of this interactive mini unit your child will:
1) Know the Islamic history of Masjid al-Aqsa
2) Understand the importance of Masjid al Aqsa and the reward for praying there
3) Get a deeper understanding of Isra wal Miraj in the light of Quranic verses
4) Have fun while learning all of the above through the engaging activities!
Extensions
– For more information on Masjid Al-Aqsa, you can visit www.visitmasjidalaqsa.com
-Details on Isra wal Miraj were taken from the book "When the Moon Split" by Safi-ur-Rehman Mubarakpuri. It is an abridged version of "The sealed nectar" and an authentic resource for Seerah – a great read for older children.
May Allah relieve the hardship faced by this Ummah and grant them the best form of reward in Dunya and Akhirah.
You can download the unit below.
---
---